1
First choose the image you want to work with. Any type of image or photo that can be turned into a recognizable silhouette can be used. The color of the image doesn't matter since we're only going to be using the outline of the image to create our metal emblem. For obvious reasons, I of course chose a dragon which I found in a collection of clip art images I have.
Here's the clip art image I'm starting with. If you're a Mac user, you can simply drag the image from your browser and drop it onto the Photoshop icon in your dock to open it in Photoshop. If your browser or operating system don't support that, click the link below to download a copy.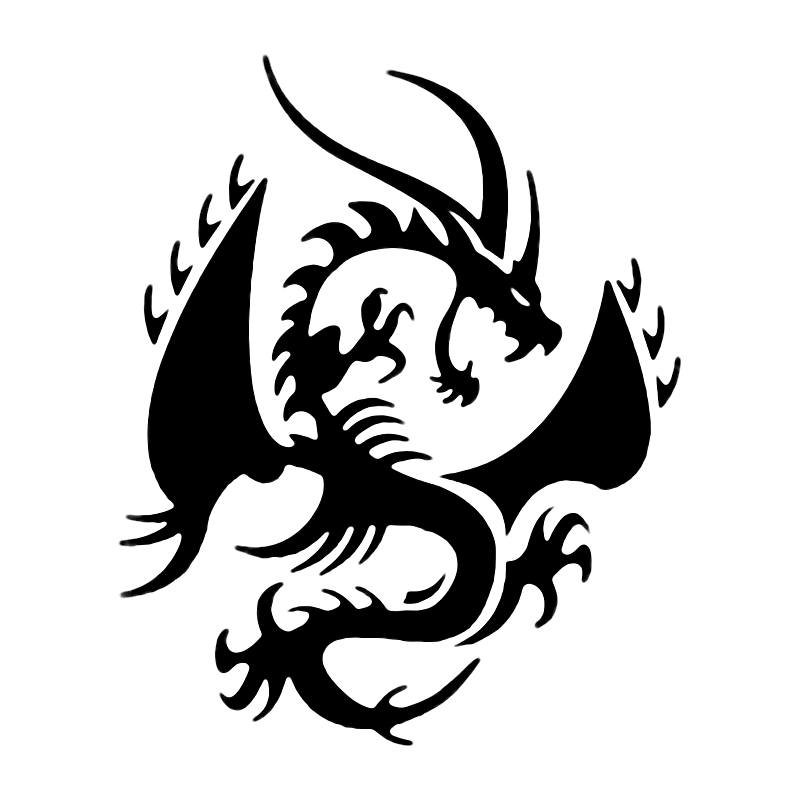 2
Most clip art is distributed as a gif or png file just as the one above. These store images in the "indexed color" mode which generally limits them to 256 colors. This is done to reduce the file size without losing image quality for images that have very limited colors in them. For our work, we'll need many colors than that, so convert the image to the RGB color mode by selecting that option from the Image > Mode menu as shown here. Note that you can tell an image is in indexed color mode because Photoshop adds the word "Index" to the title bar on the image window and also has "Indexed Color" checked in the menu as we see here.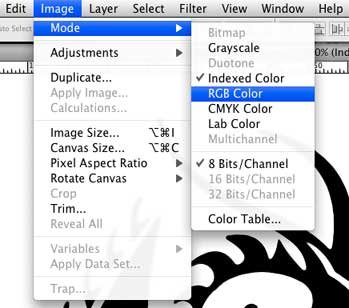 Generally, any time you open an indexed color image in Photoshop, you'll immediately want to convert it to RGB mode. Not only does this get you more colors to work with, but many of Photoshop's essential features, such as layers, are not available for indexed color images.
3
In order to apply a Layer Style to an image, which is how we're going to achieve some of our effects in this tutorial, the image needs to be separated from the background and isolated on its own layer with transparent pixels where the background used to be. This is because Layer Styles work mostly on the edges of the image, so the image needs to be isolated with transparent pixels around it so Photoshop knows where the edges are. Fortunately, when dealing with black and white clip art, this is easy to do.
First, select the Magic Wand tool

or press the keyboard shortcut key w. Set the Tolerance to about 50 and make sure that the Contiguous option is unchecked. Now click somewhere in the middle a black region of the image. The wand should then select all the black regions in the image. We're going to use this selection a couple of times, so let's save it. Choose Select > Save Selection from the menu and let's name it "Dragon Image". Make sure the options to create a new channel are selected as shown here: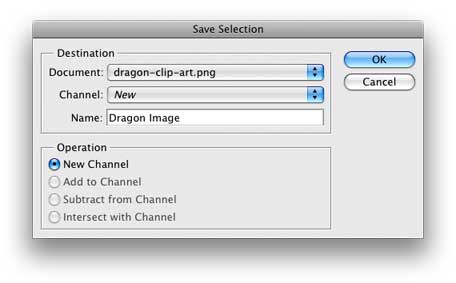 Before we go on, we'll want to deselect the dragon image by pressing Cmd-D (control-D on Windows).
4
Let's get our background in place next. Click on the New Layer icon

at the bottom of the Layers palette, then double-click on the layer name and type in "Black" so we can keep track of our layers. Make sure this layer is selected and highlighted in the palette so Photoshop knows which layer we want to draw into, then select Edit > Fill and use these settings to fill the layer with solid black: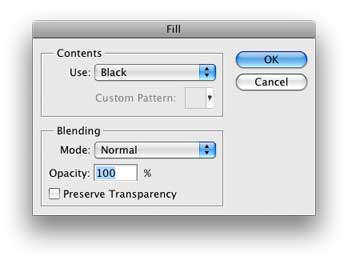 5
Next we'll get our image set up on its own layer. Create another new layer above the Black layer and we'll name this one "Dragon". Now bring back the selection we saved in Step 3 by choosing Select > Load Selection and selecting the channel we created previously as so: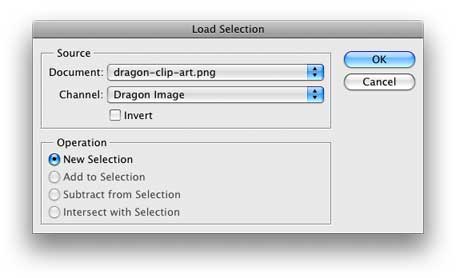 Now fill it in using Edit > Fill. This time use White for the Contents. The color actually doesn't matter since we're going to replace all the color in this layer with a Layer Style. We'll just use white for now so we can see the image on the black background.
At this point, your Layers Palette should look like this: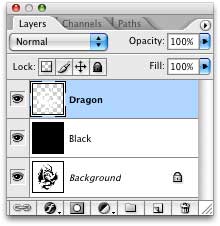 And your image should look like this: